Interstate Car Transport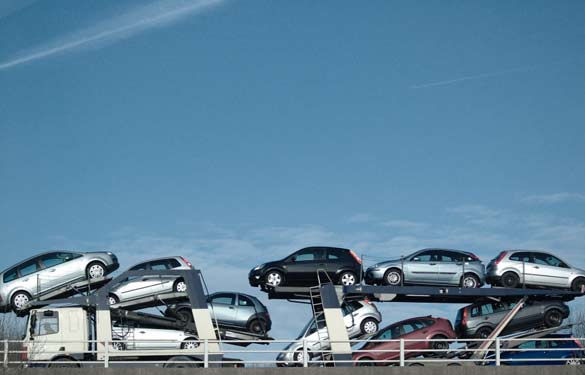 Whether you are buying a car from another state, or you're moving interstate, we have the car transport service to suit your needs and budget!
You are here: home > services > interstate car transport
Getting a Quote
Simply complete our on-line quote form, or call us on (02) 4628-2966, and we will notify you of which services are available for the regions and vehicle types selected. If the service you require is not included in your quotation, we still may be able to help. Simply call our office support staff, or email us at sales@sydneytobrisbaneremovalists.com.au, detailing your specific requirements and we'll come back to you with a price and availability.
Door to Door
We offer very competitive rates on our 'no-fuss' door to door car carrying service. With this option we collect your vehicle from an address nominated by you, and deliver it to a location of your choosing. It couldn't be simpler!
Depot to Depot
Depot to depot is our most popular service because it helps our clients save money. You cut the cost of transporting your vehicle by dropping it off at a depot in your area, and then you collect your car when it arrives at our depot in your selected delivery region.
Depot to Door or Door to Depot
With these options, you either drop your vehicle off at one of our depot's and have it delivered to your door, or have it collected from an address of your choosing and collect your vehicle from a depot in the delivery region specified. Many clients choose a door to depot or depot to door service for convenience, and because it's cheaper than door to door services.
Lowered & Non-Driveable Vehicles
If your car doesn't start, doesn't fit minimum requirements, or has a ground clearance of less than 150mm (including exhaust), it is classified as non-driveable. In most cases we can transport non-driveable vehicles. It is usually more expensive as specialist equipment is required to get the vehicle onto the car carrier, and to move it around depots. All vehicles must have a driver's seat, all windows, a working brake, hand-brake and steering to be classified as drivable.
Cars Carrying Personal Effects
Standard services don't allow you to carry any non-standard/factory fitted items within your vehicle during the transportation process (with the exceptions of a rear mounted spare wheel or a firmly secured baby seat). By choosing this option you are permitted to carry other personal effects within your vehicle. When you get an on-line quote we will provide specific instructions on what may be carried inside your vehicle (this may depend on the vehicle type and regions involved).
Combinations of the Above!
We appreciate that your car transport requirements might be a little different than the standard services listed above. For example, if you've got a non-running car, carrying personal effects that you need transported from your door to one of our depots, we may just be the company for you!